The Weekend Drop is a weekly compilation of things we loved this week. Use it to inspire your weekend, for gift ideas, or however you see fit. We hope you enjoy them as much as we do.
Gear
The Sturdy Brothers Orville Waxed Canvas Tool Roll Makes Me Want to Fix Things That Aren't Broken
Having a basic set of tools close at hand can be both a time and headache saver in a multitude of situations—whether it's in your car for maintenance on the road, in your closet for when you don't want to lug out your whole set, or in the bag you take everywhere you go for every time in between. With that, I think it's also worth mentioning the difference in the various ways you can store those tools. While a canvas bag or plastic container would do just as well holding the items you need to get to faster, wouldn't you rather reach for an attractive waxed canvas and full-grain water buffalo leather roll-up with copper and brass detailing like The Orville Waxed Canvas Tool Roll from The Sturdy Brothers? If you're someone that enjoys tightening the odd bolt, it's probably going to make the experience that much better for you. And, if you're an individual that would just as soon have to clean an outhouse as fix a broken light switch, maybe it'll encourage you to stay a little more on top of that routine home maintenance than you'd been planning.
Tech
Visually track all of your online orders in one app
I receive a lot of packages in the mail because of my job. One of my most common complaints is the tracking of said packages. There never seems to be an efficient way of keeping track of my orders, let alone really knowing its distance away, etc. The ROUTE app solves this dilemma.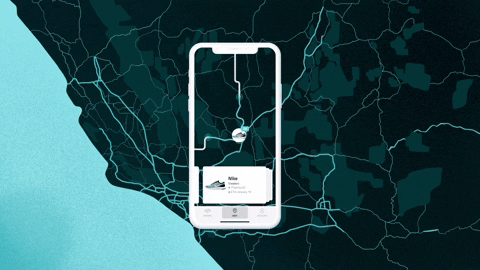 ROUTE is a one-click online premium shopping experience that recently announced the launch a first-of-its-kind app that will automatically collate shoppers' pending packages, no matter the merchant they bought from. Their innovative technology streamlines the process by using the user's email to collect tracking data and populate it into a visual map, allowing them to visually track any shipments via their smartphone device.
Head on over to ROUTE and request an invite to use this new feature.
Food/Drink
The perfect cocktail for the 4th of July
It's no secret that I love a good summer cocktail, especially a 4th of July cocktail. It's also no secret that I'm a fan of Smirnoff Red, White, and Berry cocktail recipes. That's why I was excited to share with you a new recipe my friends over at Smirnoff sent me called the Americana Faux-Jito, featuring their No. 21 Vodka and the new Ice Red, White & Berry.
Ingredients:
3 oz. Smirnoff Ice Red, White & Berry
1 oz. Smirnoff No. 21 Vodka
4 cherries
4 raspberries
2 basil leaves
2 oz. lemon juice
1 lemon wedge
1 sprig of basil
Directions: Combine cherries, raspberries and basil into the bottom of a cocktail shaker and smash. Add Juice, Smirnoff No. 21 Vodka and ice. Shake vigorously and strain into a glass and pour in Smirnoff Ice Red, White & Berry. Garnish with lemon wedge, cherries, raspberries and sprig of basil.
Style
RAINS Waterproof Belt Bag Holds Your Stuff Without Dropping Your Pants
While I have to admit to being a little skeptical of the new belt-bag-across-the-chest-fanny-pack-fad-resurgence situation at first, I think I'm pretty won over now. Honestly, I don't know what took me so long. You get to keep all of your stuff in a place that's not going to cause your pants to fall down if you forgot a belt that day and you can access it super fast, like some stealthy (but not really sneaky) sumbitch. What more do you want? ¯\_(ツ)_/¯ the Waterproof Belt Bag by RAINS has the answer: it'll keep your stuff dry and you looking super fresh as well. So, that. That's what more you could want.
Art/Design
Tie Fighter Chairs Are Now a Thing, and I'm Done Buying Furniture
Who knew that simply combining some aluminum pipe and polyethylene cord in a certain way could give us such strong feelings of nerddom and coveting at once. Alas, here we are, staring longingly at designer Kenneth Cobonpue's Tie Fighter chair, trying to reason out where it would fit best in our current layout. Personally, I'm good with just dragging it along with me from room to room—pretty sure it's the only chair I ever want to sit in again.
Grooming
Hair Regrowth Starter Kit
We've come a long way since the introduction of Rogaine. Nothing against their products, but I think there are some new products worth checking out for those looking to grow their hair back. Take Good Guy's for example. They get that guys don't really want to discuss their hair loss, because it can be downright embarrassing or hard to embrace. Their 4-step treatment features a collection of dermatologist tested, sulfate and paraben-free products that can deliver results in as little as three weeks.
Here is what the Good Guy's Hair Regrowth Starter Kit looks like: Hair Regrowth Shampoo ($13), Good Guy Hair Regrowth Conditioner ($13), Hair Growth Gummy Vitamins ($15) and a Hair Regrowth Treatment($28) which all function to prevent and restore hair loss, receding hairlines and general hair thinning.
Entertainment
The C64 Is Back as a Keyboard and Gaming Console in One
Given a chance to indulge in a little nostalgia, I'm going to take it every single time. While my memories before the age of 12 are pretty fuzzy, one thing I do remember is the amount of time I spent one a Commodore 64 mastering games like The Oregon Trail, Dig Doug, and (especially) Paper Boy. While you definitely don't need a special console to play those gems anymore, this December we'll have the opportunity to play on that awesomely clunky old keyboard once again, and I feel like I'm gonna need to take it. As technology has come pretty far since 1982, all of the internals required to run our favorite programs are now housed inside and can switch modes between C64, VIC 20, and Games Carousel. Watch the video below, or check out their site here to learn more.
Want to be featured in the next Weekend Drop? Shoot us a message here.