Apple Pro Display XDR
It was a big day at the #WWDC19 Apple event today; more specifically, a big day for Apple Pro users. Alongside the unveiling of the all-new Mac Pro, which had the entire crowd roaring, the Apple Pro Display XDR was announced, the world's best pro display.
Pro Display XDR Features Largest Retina Display Ever
The Apple Pro Display XDR features a massive 32-inch LCD panel with a 6016 x 3384 Retina 6K resolution and more than 20 million pixels. Additionally, it includes a P3 wide color gamut and true 10-bit color for over 1 billion colors, allowing a true-to-life viewing for pros — ideal for video and photo editing, 3D animation, or color grading. Pro Display XDR also features the industry's best polarizer technology, delivering a super-wide, color-accurate, off-axis viewing angle, so now multiple people can view more accurate content simultaneously. A common complaint among professionals with their displays is reflected light. Apple has addressed this by incorporating an industry-leading anti-reflective coating that offers an innovative new matte option called nano-texture, with glass etched at the nanometer level for low reflectivity and less glare.
Stunning, Flexible and Modular Design for the Way Pros Work
With its 9-millimeter borders and beautifully sleek aluminum enclosure, it is as though the XDR display is just edge-to-edge glass. With the addition of the Pro Stand, Apple's team has engineered the arm to perfectly counterbalance the display, making it feel virtually weightless. It allows for easy adjustments however pro users see fit. The Pro Stand provides both tilt and height adjustment, and also allows Pro Display XDR to rotate into portrait mode, perfect for tasks like retouching photos, designing a web page or writing code. Easily removable, the Pro Stand quickly attaches and detaches so it is easy to take on location. For pros with unique mounting requirements, a VESA mount adapter is interchangeable with the Pro Stand. A single Thunderbolt 3 cable is all that's needed to connect seamlessly to the Mac product line, including the new Mac Pro, which supports up to six displays for a breathtaking 120 million pixels.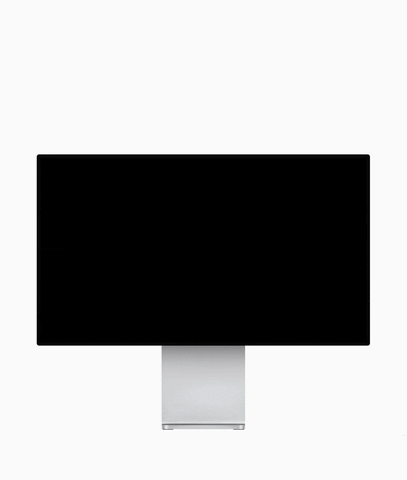 Pro Display XDR Pricing and Availability
If you're eager to add Apple's all-new Pro Display XDR to your workstation then mark your calendars for this Fall. The Pro Display XDR pricing starts at $4,999 USD, with the addition of the Pro Stand for $999 USD and the VESA Mount Adapter is $199 USD. Head on over to Apple online to dive deeper into the tech specs for Apple's largest retina display to-date.